Case study: M42 bridge installation HS2

Posted on Thursday, August 27th 2020
Project breakdown
Client: Expanded Structures and HS2
Contractor: LMJV (Laing O'Rourke & J.Murphy and Sons Joint Venture)
Location: M42 Junction 6 – 7
Live date: 7 – 9th August 2020
Depot: Traffix Bickenhill
Division: Major projects
Project background
Once complete HS2 will bring the West Midlands within an hour's commute of Manchester, Sheffield, Leeds, York and London. HS2's interchange station is at the heart of the UK Central Hub growth area, to ensure the existing local network is fit for purpose several improvement and expansion phases are planned.
The creation of a new road network is concentrated near the A452 Chester Road, the A45 Coventry Road and the M42. Four connecting highways bridges will link the new road network with existing routes. The first of these new bridges, a 65-metre structure spanning the width of the M42 was due for installation in August 2020.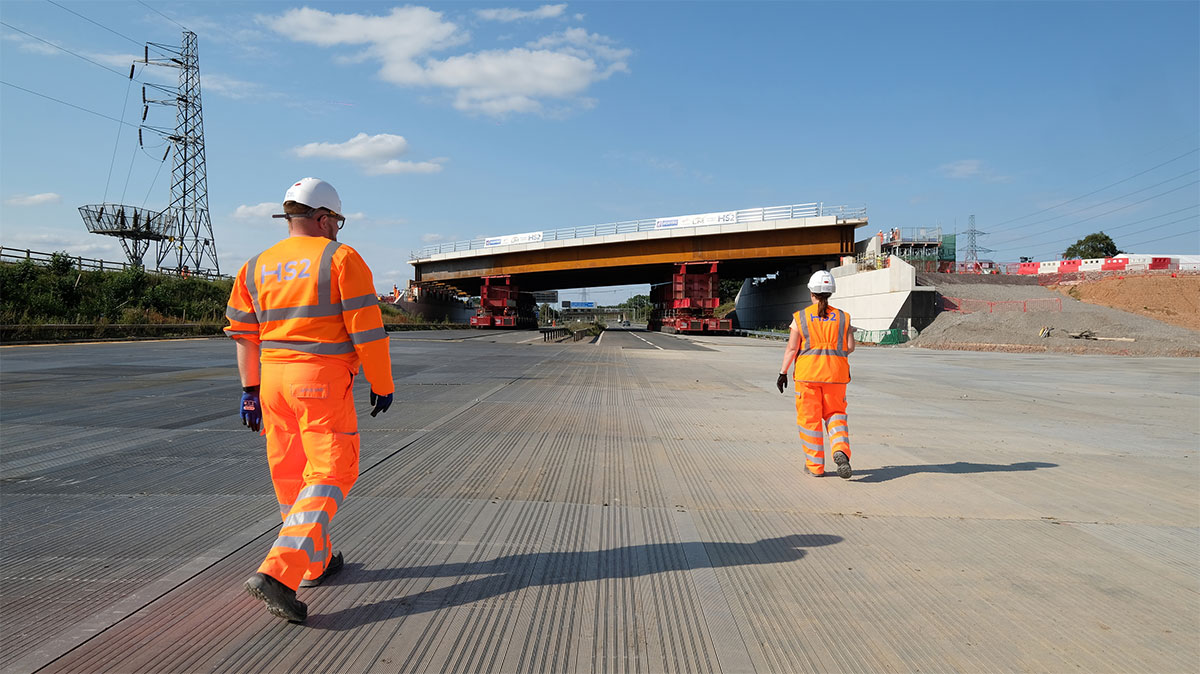 The challenge
Traditional methods of bridge building require prolonged road closures and disruptive equipment. By adopting the Design for Manufacturing and Assembly (DfMA) method of construction, the quantity and duration of traffic measures on the local road network is dramatically reduced.
A 448 wheel self – propelled modular transporter would move the 2750 tonne bridge structure into position across the M42, which would necessitate a temporary weekend closure of the motorway during August 7th- 9th from junction 6 to 7A northbound and junction 7 to 6 southbound. Diversions would also be required on the M6, M6 toll and A45.
The solution
An in-depth knowledge of the network authority and their contractors enables Traffix to assist clients from planning phase through to delivery. Working in close partnership with the client and contactor, Traffix joined the project team eighteen months before installation to assume responsibility for designing detailed layouts and plans for the temporary traffic management required to close a major network over an entire weekend.
Prior to installation and during the work phase Traffix led the coordination with other specialists including supply chain, vehicle recovery and the police. A substantial investment was made for the provision of new bespoke equipment for this project – information systems, signage and cones.
Pre-lay commenced on the 4th August and 35 TM operatives rolled out the installation during the evening of 7th August.
Live journey times were relayed to motorists on diversions via Journey Time Reliability systems installed at closures and linked to the Highways Agency network live traffic feed.
In total Traffix supplied 2 supervisors who were based at project offices and on site, 3 traffic safety control officers, 54 gatemen and maintenance crews who worked 4 shifts over the course of 44 hours. A total of 25 TM vans and IPV's were used.
The result
"On behalf of all of us here at Expanded I'd like to thank all the crews who did such a fantastic job for us over the weekend. Being a key part of the whole operation and getting the motorway opened 22 hours ahead of programme stands us all in good stead. Well done to you all."
Andrew Molamphy, Expanded Ltd
"Huge compliments to all concerned for a fantastic job. I am particularly proud of our team who excelled under pressure when asked to reopen all routes so much earlier than originally expected. From start to finish Traffix have proved that we have the capability to deliver TM for major projects, which don't come much bigger than this."
Stuart Morrissey, Commercial Director, Traffix.