Closing the M1 for bridge installation

Posted on Thursday, May 31st 2018
Following our traffic management on the A14 Kettering project for our client Buckingham Group, we were invited to tender and subsequently awarded the motorway closure for Buckingham Group's bridge installation project over the M1.
Forming part of a major infrastructure development at SEGRO Logistics Park East Midlands Gateway, the Kegworth bypass bridge brings the road over the motorway, south of Ashby Road Bridge. The bridge is a hugely important development, not just for the region's economy, but the UK on the whole.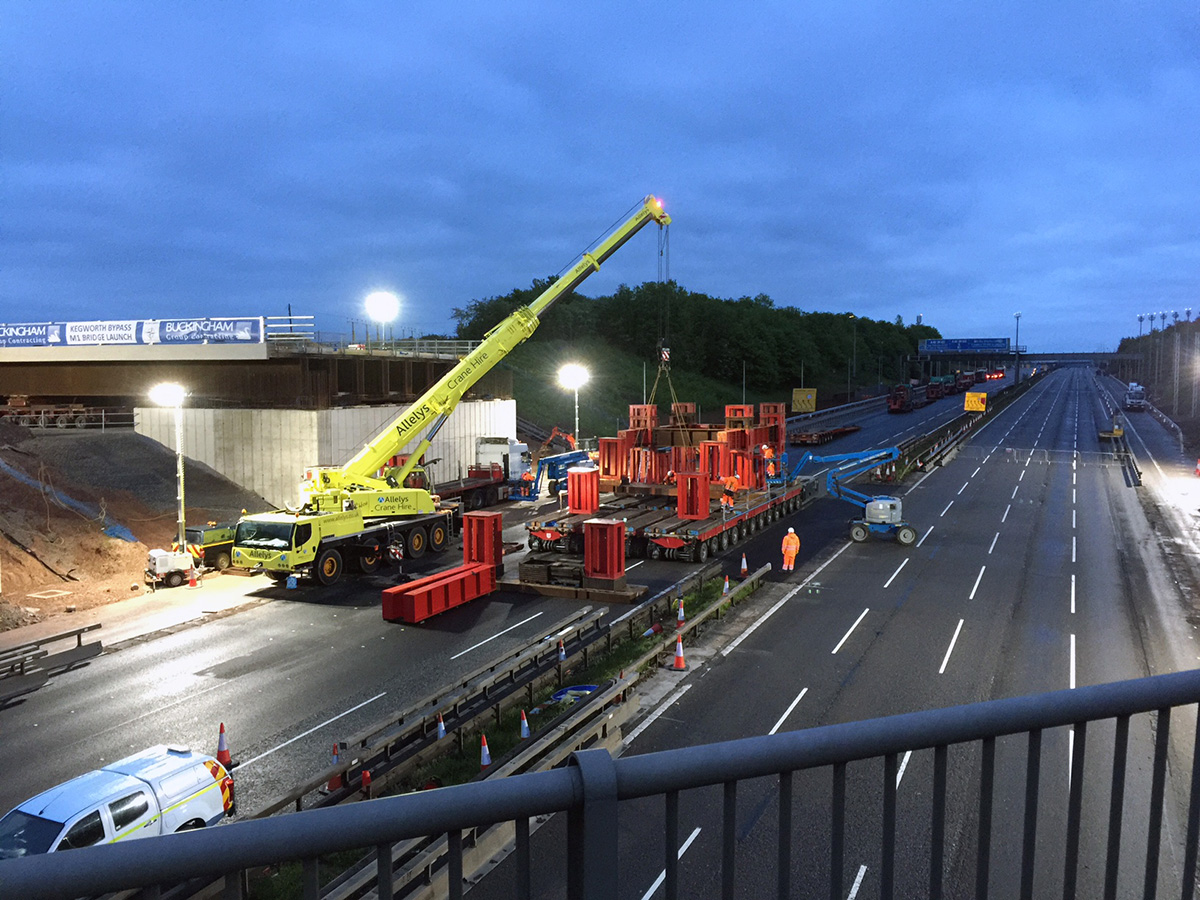 This highly complex project involved an extensive programme of planning and coordination between Traffix, Buckingham Group, Highways England and stakeholders across three counties including the emergency services and local authorities of Leicestershire, Derbyshire and Nottinghamshire.
The size and scale of the bridge, along with the confines of the airport, required a specialist type of heavy plant transporter, known as a self-propelled modular transporter (SPMT), to move the bridge, rather than a traditional crane.
In the late hours of Friday 11th May, we closed the section of the M1 between junction's 23A and 24 and installed a diversion. Throughout Saturday, the bridge was manoeuvred over the motorway with engineers conducting precision checks and balances throughout the process with final adjustments made prior to the bridge deck landing on the bearings.
Engineers conducted safety checks and the motorway was handed back to Highways England for Traffix to reopen ahead of the scheduled time on Sunday 13th May.
A project of this scale required a team of directors, managers and operatives from two Traffix depots' - Traffix East and Traffix Head Office. Our involvement included the creation of Chapter Eight layouts at each planning stage and the design and production of 57 special signs, all produced by our in-house team. During the closure a team of over 50 Traffix personnel oversaw the project, split over 3 shifts.
Traffix Project Manager Mark Madin commented; "I think its fair to say that this was the most complicated motorway project we have ever worked on. However, because we have such an in-depth knowledge of the network authority and their contractors, we are able to assist our clients in delivering their projects in a proficient and safe manner, within budget and on time. It was a real team effort and a huge success."
"We would like to thank all motorists who experienced delays to their journey over the weekend for their patience and understanding."
Lance Gudger of Buckingham Group added "Traffix were very pro-active throughout the whole 'pre-start' process and planning phase, and on the night. Despite severe time pressure and inclement weather the implementation and dismantling of the M1 closure was almost seamless – credit to them."