Getting to know... Derek Vinning

Posted on Tuesday, July 26th, 2016
Running the operations side of Traffix requires attention to detail, military precision even, step forward one pace Operations Director Derek Vinning.
Derek joined Traffix in 2007 as a Yard Operative. He swiftly made the transition to the role of TM and Events Operative before further promotions led him to the positions of Transport/Yard Manger then General Manager. In 2014 Derek was invited to the Traffix Board to assume the role of Operations Director.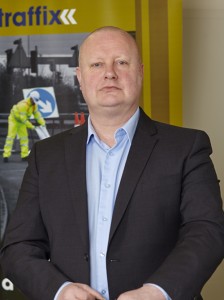 With a wealth of experience of Traffix as a business and the TM and events industry in general, Derek's remit within the company is wide-ranging. In addition to his direct responsibility for the events business, vehicle fleet, operations room, depots, maintenance and purchasing, Derek also assists in recruitment and is a drug and alcohol-testing officer.
Derek's career started in Her Majesty's Armed Forces. A move into his family's Fruit and Vegetable business followed which saw him win the industry's prestigious "Young Retailer of the Year" award for three years in succession.
On the occasion when Derek is not at Traffix you'll find him spending time with his family – he has four grandchildren. Football and rugby are also passions, Derek is a long-suffering Birmingham City fan and he enjoys watching the England Rugby Union team.
Derek commented; 'I've seen Traffix grow from an acorn into an oak. I really want to see us grow even further and eventually move to an eight-acre site. The way that we're progressing I can see this vision becoming a reality in the not too distant future.'