In conversation with Joey Thomas...

Posted on Monday, December 16th 2019
How did you find out about Traffix?
Initially I worked at Traffix via an agency. After I had been paced with Traffix over a number of jobs the company offered me a full time position.
Before traffic management you were in the Armed Forces, how was the transition into a new working life? It was hard to adapt straightaway, getting back into civilisation and trying to find the right character to be. When I left the Forces my first job was in a factory, which I couldn't get used to, as standing in one spot and not always being busy was the exact opposite of what I'd been accustomed to. My family and friends played a massive part in helping me to adapt.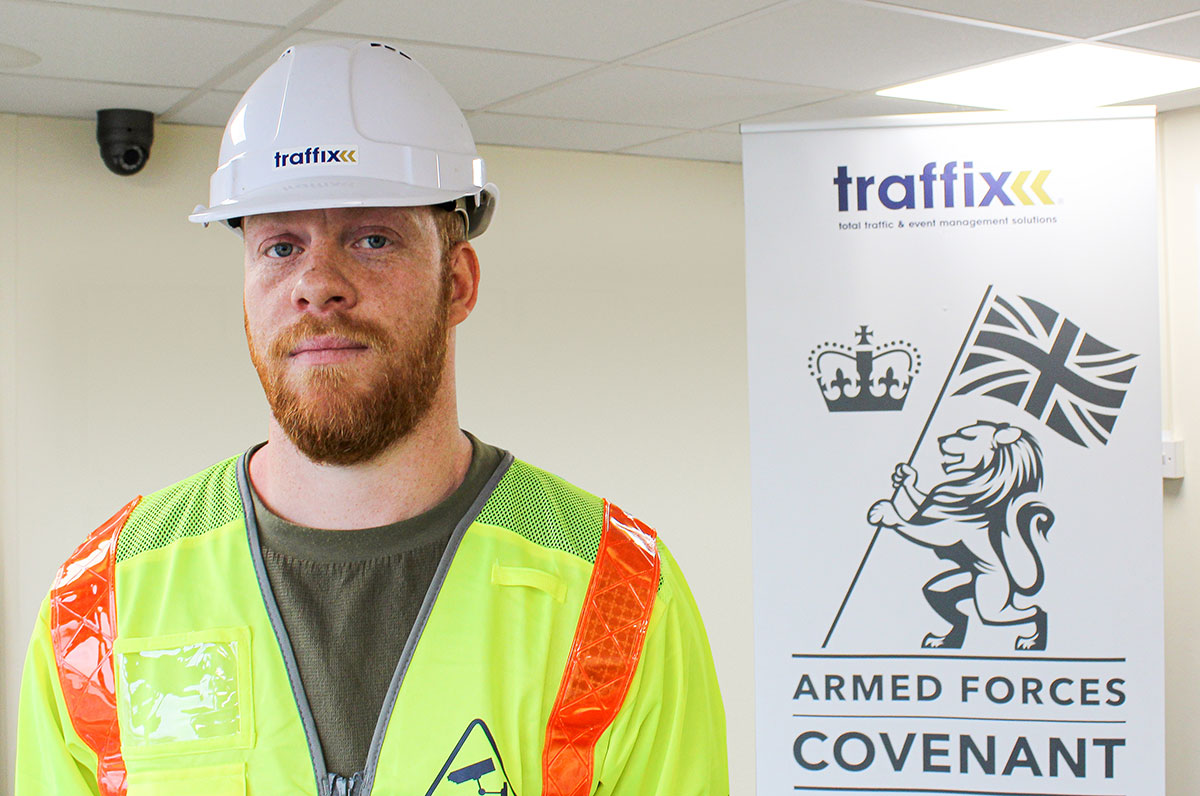 Has it helped having former Armed Forces personnel at Traffix?
Yes, very much. Our Operations Director is former Armed Forces and his door is always open. If I've got any issues or problems it's nice to speak to someone that comes from my background and understands exactly how I feel.
Can you tell us about your role at Traffix?
When I first started I had my M1 and M2 tickets, which is up to two-way traffic lights. I've now taken courses, which have taken me up to M5, and I'm in the process of taking my High Speed ticket. I have been working on the installation of jobs but have recently moved over to a new maintenance role. I am responsible for making sure that all our on-going sites within Birmingham, Warwickshire and Leicestershire are up to the standards that our clients' and we ourselves expect.
Are there any comparisons you can draw between your life in the Armed Forces and life at Traffix?
Yes, I would say so. The job is different every day so you never know what you'll be facing the following day. Timings are important, this is drilled into us in the Forces – be here at this time - get this done – move on, it's exactly the same here. You've got to be on-point 24/7, we're responsible for keeping people safe so you have to get the job right 100% every time. Also the banter with the team is similar to that which I was used to in the Forces.
What do you enjoy most about working at Traffix?
Not being in one place. I can't be in one place for a long time so being somewhere different every day is a bonus. And the crew here, it's a close-knit group, there are times when we have got to be serious but there are still times when we can have a laugh.
Is there any aspect of your Forces training that has helped you in a particular situation or in general at Traffix?
When you are closing roads off and people are trying to get to work or home they can get very frustrated. My forces training has taught me to take it in and not give them any attitude back whatsoever, to be calm and collected and to diffuse the situation so that everyone can carry on with their day. Also, I would say that In general making sure your kit is in perfect order is something that comes naturally when you've served in the Armed Forces.
Do you see yourself progressing your career in Traffic Management with Traffix?
Definitely. I always want to better myself and would love to reach the level of supervisor and then into management. Anywhere that I can go I'll take the opportunity. As I have said I am currently doing my High Speed courses, which will give me my ticket to install jobs. As soon as I have achieved this level I would like to obtain my HGV licence so that I can drive our Impact Protection Vehicles.
As a former member of the Armed Forces what attributes do you think service leavers offer businesses?
Hard work, commitment and loyalty for certain. I would also say leadership skills – bringing people closer together. I have taken new Traffic Operatives under my wing, shown them the ropes and helped them to understand just what is expected of them.
What would you say to anyone leaving the Forces that may not have considered a career in TM?
I would say that as far as Traffix is concerned I left one family in the Armed Forces and have joined another one here. You are with your brothers and sisters 24/7 in the Forces and you are with your brothers and sisters 24/7 here, you've all got to get along and enjoy your job. I would definitely recommend it.
Traffix has honoured its commitment to the Armed Forces through the signing of the Armed Forces Covenant. This demonstrates the company's recognition of the value that armed forces personnel, and their families, can bring to the workforce and the wider community.