Jobs for the boys?

Posted on Wednesday, July 15th 2020
The Construction industry has traditionally been a male dominated sector. However, with the sector now experiencing a surge of women fulfilling manual roles, are Traffic Management businesses making a concerted effort to attract women into our sector?
Across the board the answer has got to be no, but why? Perhaps the answer lies in the origins of our sector? When Traffic Management began to be taken seriously back in the 1990's you could count the number of female TTMO's nationwide on one hand with fingers to spare.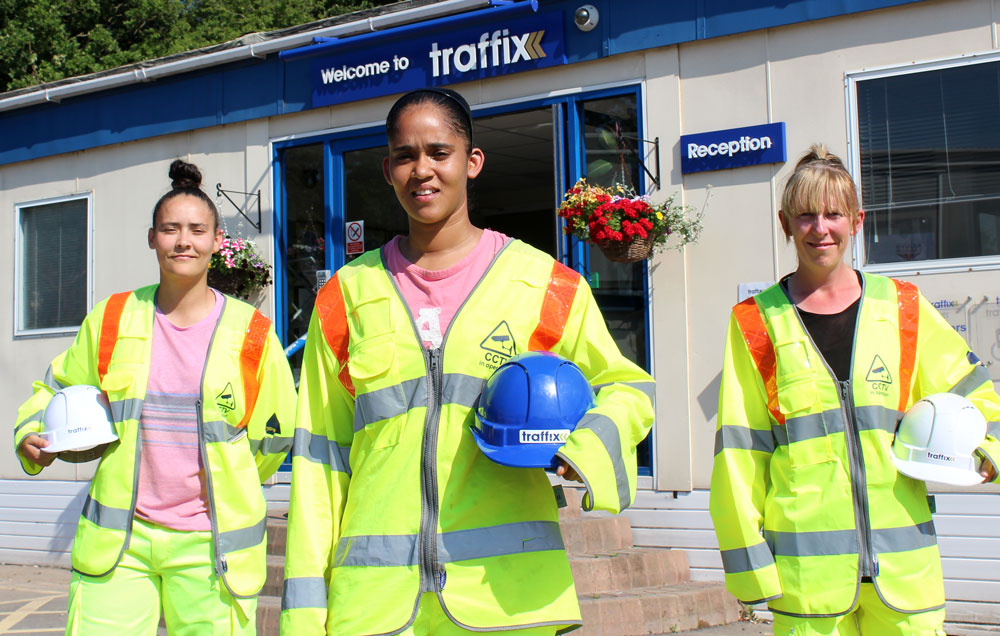 Levelling the playing field
Of course there were mitigating circumstances for the situation back then, namely the physical demands of lifting and carrying which were an expectation. Who can forget those cone-carrying competitions for bragging rights in the yard?
But thankfully our industry has come a long way since those days – new health and safety guidelines, specialist machinery to alleviate repetitive actions and heavy lifting. Everybody regardless of their physical ability now finds themselves on a level playing field. Yet still the number of female TTMO's is disproportionate to the number of males by a wide margin.
Unearthing a gem
Traffix is committed to achieving the highest level of integrity and ethical standards in all areas of our business. We recognised that there was a gap in the market for people who weren't aware of the opportunities within TM. In 2016 and in partnership with the Adjuvo Group, we launched the first TTM apprenticeship scheme. Open to everybody this scheme has proved hugely successful and is still providing skilled TTMO's to Traffix today. The scheme also provided us with our first Female Operative.
Noleen Thomas became our first female TTMO in 2017. Based at our Solihull depot, Noleen quickly established herself and has become a real asset to our team; she has achieved her 1-5 tickets and is now moving towards her M6.
It's fair to say that Noleen was initially apprehensive but Traffix is a family and Noleen reflecting on this time commented...
"At first I was a bit apprehensive, as you are when taking on something totally new. But then I was put through the training programme and I achieved all my tickets, which enabled me to become a Traffic Management Operative. There were a few double takes when I first turned up, but I'd worked as part of a team in the pubs where you have to roll with the banter between staff and the punters, so I found it easy to get along with my new teammates.
"I think that there would be a lot of women out there who would assume it's a man's job and they might feel too intimidated to look into it. But it's not like that, we all have a laugh and a joke but nobody steps over the line."
One becomes three
Noleen has now been joined by two more female TTMO's. Crystal Edwards and Gemma Ray have also excelled and have quickly become established members of our Solihull team. We are delighted to have received glowing references for all three ladies from some of our clients.
Gemma has this advice for any budding female TTMO's... "Go for it! TM offers a full training programme and the opportunity to build a successful career. There's also plenty of opportunities to work overtime which increases your earning potential massively."
Crystal joined us in May this year but has already set her sights on progressing... "Once you start attaining your tickets you can progress quickly. There are many roles to aim for and I love the challenge that they represent and also the chance to do something new."
The way ahead
Working in Traffic Management is not just a job for the boys. Our three female TTMO's have exploded this myth and we want to build on their success within our sector. We offer a stepped career path at Traffix and look forward to more females taking a step in our direction.
Operations Director Derek Vinning commented, "Here at Traffix we walk the walk. As a responsible employer we are committed to equal opportunity and diversity in the workplace. We want our employees to know that their employment and progression is solely based on merit. At Traffix everyone makes a difference"
For more information on opportunities at Traffix contact hr@traffixuk.com