New vehicles join the fleet

Posted on Wednesday, December 2nd 2020
Following an evaluation of our vehicle fleet we have recently taken delivery of the first tranche of new purpose-built traffic management vehicles.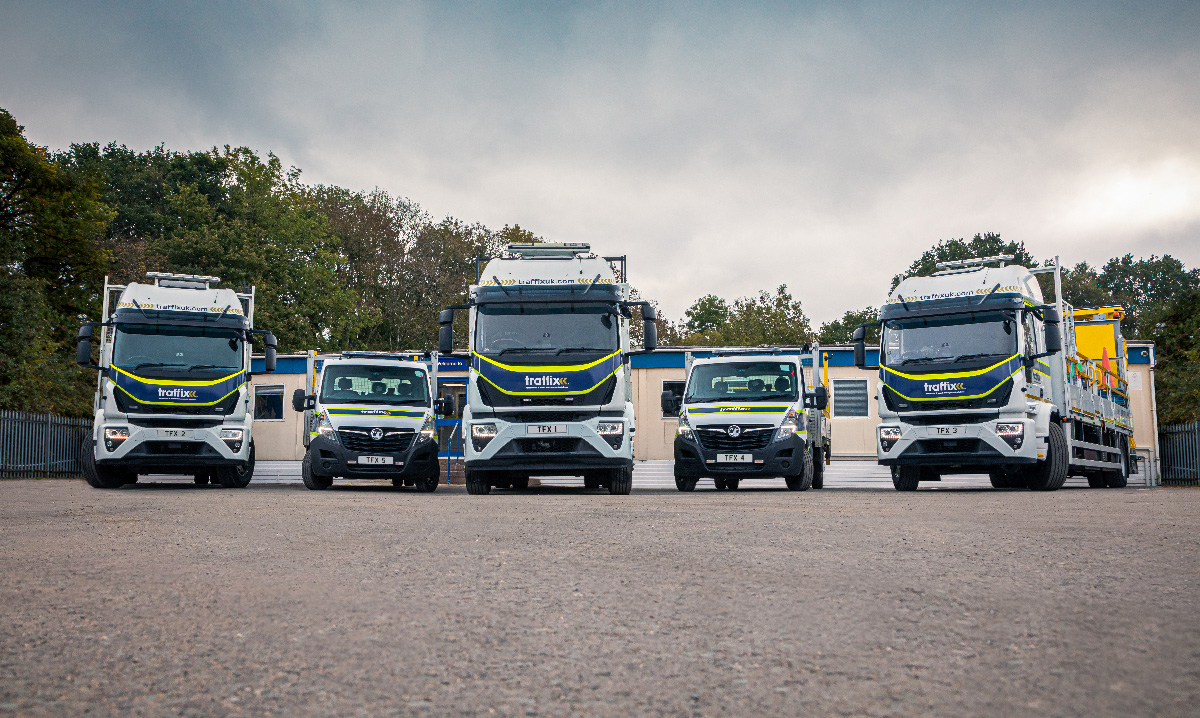 Commitment to vehicle safety standards is important to us, which is reflected by the attention to detail that we insist on when specifying new vehicles. We always make the best use of advanced technologies and materials to provide us with state-of-the-art vehicles that are fit for purpose over their lifetime.
New Livery
Our vehicles have carried much the same livery for a number of years, so we thought it was a good time to look at refreshing our look. Working in close partnership with Greensquare our branding / marketing agency and Bevan Group our specialist vehicle supplier, we arrived at a new livery which is designed to catch the eye for safety reasons whilst also being eye-catching.
Fleet Support Vehicles
Our new fleet support vehicles are primarily for use by our Traffic Safety Control Officers (TSCO). We chose the Ford Ranger, which features Compliant Reg.65 lighting to front & rear and Complaint Chapter 8 / Highways livery.
Single Cab Dropside
We decided to continue our association with the Vauxhall Movano platform for our Single Cab Traffic Management Dropside vehicles. These vehicles feature lightweight aluminium within the structure to save weight where possible. In addition to the Compliant Reg.65 lighting to front & rear, we specified – additional lighting to allow for a true 360 visibility.

For increased safety of highway cone distribution, these vehicles are fitted with operator cone/footwells c/w operator lashing. Incorporating Complaint Chapter 8 / Highways livery, we also went one further by painting the rear frames in high-vis yellow to provide greater visibility of the vehicle from distance.
Crew Cab Dropside
Once again we decided to stick with the Vauxhall Movano platform for our Crew Cab Dropside vehicles. In addition to the specification used for our single cab vehicles, our crew cab vehicles feature a full L.E.D rear directional arrow board for high-speed lane closure. The rear frames are plastic coated with high-vis yellow to give greater visibility.

All Dropside vehicles are supplied with additional operator safety features such as:
Underbody & Gantry lighting for improved operator visibility in low light
Reversing aid's such a colour camera system & warning alarms
ADR stowage boxes for hazardous spill clean up kits
Full integrated European standard & British Lloyds tested working @ height HSE complaint, operator fall arrest systems – TM Bevan SafeTDrop
Built to nominal lengths to give a more controlled turning circle & increase payload
Extended mirror arms to give greater operator visibility
Impact Protection Vehicle
We chose the Iveco chassis for our Impact Protection Vehicles which feature Complaint Chapter 8 / Highways livery. Each vehicle is fitted with 3/60 recording cameras.

Traffix Operations Director Derek Vinning commented: "We are delighted with our range of new vehicles. Once again we are pushing the boundaries of what can be achieved and setting the standard within our industry. Personally I am also delighted to see the Armed Forces Covenant logo prominently displayed on our new vehicles."

Traffix Health, Safety and Facilities Director Kerry Draper commented: "Our FORS Bronze Certification has sharpened us up regarding our vehicles. This investment is further proof of the importance we place on the safety of our operators and the public at large."