The Word On The Street...
Traffix in conversation with Tracey Spare (Event Director, The Great Midlands Fun Run).

Posted on Thursday, July 11th 2019
We've been handling the street closures and traffic management for The Great Midlands Fun Run since 2018. Tracey Spare is the Event Director, here he talks about his challenges in running an major event and what he expects from his strategic partners…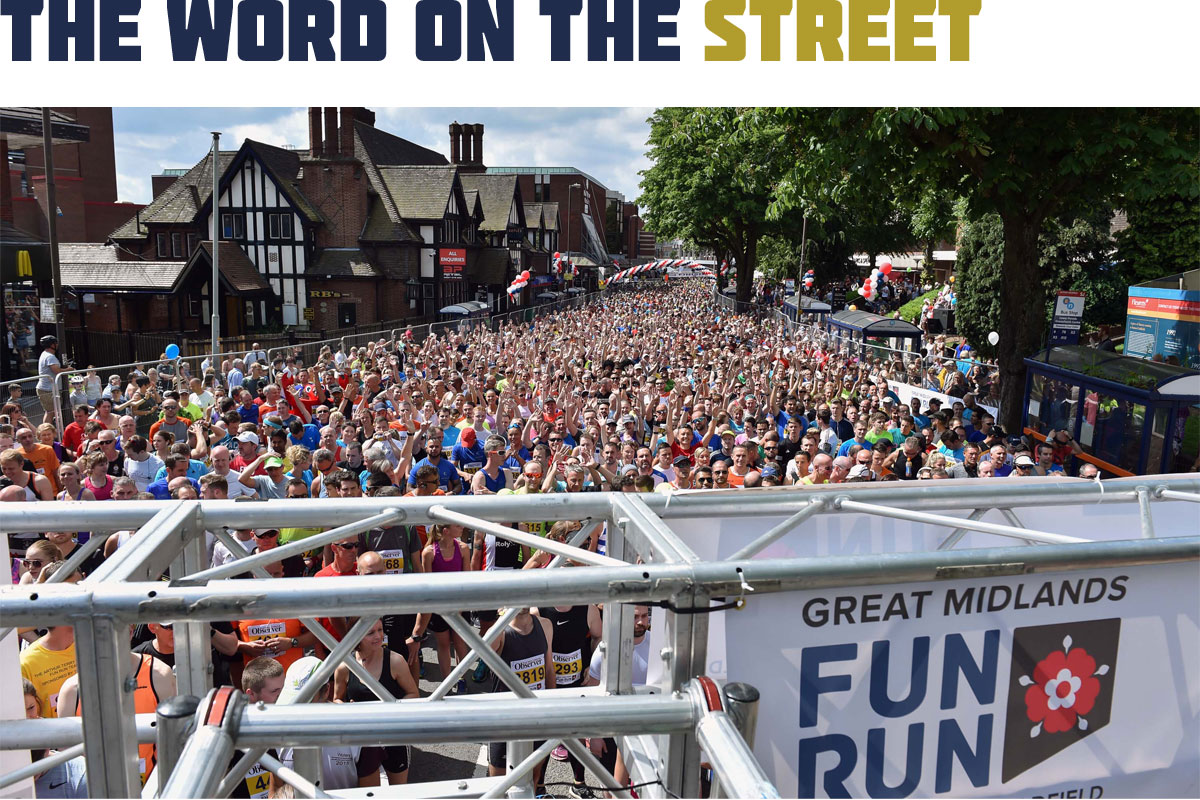 Can you describe the scale of your event?
The Great Midlands Fun Run began life as the Royal Sutton Fun Run in 1982 making it one year younger than the London Marathon. The key objective of the event has and always will be to provide a vehicle for people of all ages and abilities to raise money for a charity, voluntary or community interest organisations hence it is and always will be a 'fun run and not a race'.

After 21 events the Royal Sutton Fun Run, which had generated over £1.25 million for charities and voluntary organisations was brought to a close in 2002. Following 'pressure' from existing commercial partners, the Great Midlands Fun Run was born in the spring of 2003 and has to date has distributed a further £3.35 million bringing the overall total figure to £4.6million.

In recent years, the event has attracted participants from all corners of the world but primarily within a 25/30 mile radius of Royal Sutton Coldfield. Numbers have reached 7000 but have now settled to in excess of 5500.

Due to the nature of the event and the unusual distance of 8.5 miles, the Great Midlands Fun Run regularly attracts close to a thousand junior entrants i.e. 14 & under; a high percentage of female entrants and in excess of 50 dogs alongside their owners.

Many will participate in fancy dress and some will pull or push what may be described as abnormal loads e.g. boats, spa baths; sofas, cars and even a fire engine.
What's the most challenging aspect of running your event?
There are many of what you may describe as 'challenging elements' to organising the Great Midlands Fun Run and those will be determined, in most cases, around the time of year i.e. attracting and securing commercial support; preparation of artwork and event promotional/marketing materials; registration and the day itself when the most challenging is the management of the road closure/diversion.
How did you find out about Traffix?
My first exposure to Traffix was when I heard Derek Vinning [Vinnie] speak at a Birmingham City Council hosted conference for event organisers in the autumn of 2017. Hearing Vinnie speak, raised my concerns that our existing arrangements to road traffic management were no longer robust enough, particularly following the Boston Marathon finish-line bombing; London Bridge and Manchester Arena attacks.

It was evident we required a more comprehensive traffic management solution primarily on what I describe as the five-mile 'outer ring' of the road closure/diversion involving major roads and key road junctions.
What was behind your decision to choose Traffix?
I approached Traffix in the spring of 2018 to analyse our existing traffic management provision with a view to them submitting proposals and being awarded the contract. Vinnie's initial response was positive, proactive and immediately enhanced our existing arrangements providing a more comprehensive solution to what is certainly the most challenging element on Fun Run day itself.
What's important to you when working with event suppliers/partners?
As an event organiser, you require complete confidence that both contractors and volunteers, who are vital to the staging of any event – best demonstrated at the 2012 London Olympics 'Game Makers', know what is required of them and that they will execute their assigned roles.

You also need to be flexible and allow them to demonstrate initiative when responding to incidents. Speed of response is critical and you have to make judgement calls based on experience and the facts available at that moment in time.
Is there a particular element to the service that Traffix provides, which stands out?
Event manuals, risk assessments are all well and good but are redundant when you have to react when faced with a situation, particularly on traffic management when more often than not, you are preventing someone from travelling along a road they want to or in, many instances, feel they have a divine right to.
Would you say that Traffix go beyond your expectation?
Despite 2018 being the first year Traffix was contracted to provide the road traffic management for the Great Midlands Fun Run, the response of its team can be summed up as professional, effective and in several situations beyond expectations.

There is never going to be a situation where the event is perfect – that concept does not exist in my dictionary. You can work to provide the best solution possible with the resources at hand; review the events and enhance where needs are identified.

When you are working with the public and preventing access to roads, property etc for any period of time, there will always be an element of 'confrontation'. The key is how those situations are managed. The team from Traffix has demonstrated both in 2018 and 2019 they have the experience and skill-set to fulfil that role.
Do you ever receive feedback about Traffix from event participants or spectators?
My confidence and opinion of Traffix has been endorsed by many of the senior volunteers, some of whom have supported and been actively involved on Fun Run day for over 20 years, who have commended Traffix staff on their professional, firm and effective approach to traffic management on the event.

There will always be room for improvement and opportunities to enhance the traffic management solution. That is why it is critical to obtain constructive feedback from those involved around the route and build those comments into preparations for future events.

The team from Traffix has always been quick to respond to requests for assistance and have dealt with those situations promptly and effectively. As event director of the Great Midlands Fun Run, I have to accept responsibility for the events leading up to and on the day itself. Having the support and experience of Traffix provides me with full confidence the road traffic management will be comprehensive and robust.

We share similar values in that we will perform to the best of our abilities but at the same time accept and acknowledge where we have training needs. Those two attributes are what you look for in any company or indeed volunteers.
Would you say that Traffix make a difference to the success of your event?
I freely admit, I am not the best at delegating but I also appreciate I need to rely on key people who can fulfil a specific role particularly on Fun Run day. I have complete confidence in Vinnie; Matt Oulton and the team from Traffix to execute a comprehensive solution to the traffic management on Fun Run day.

Knowledge and experience are key attributes but the ability to man-manage and execute an agreed plan of action is vital to staging a safe and enjoyable event. Traffix ticks the box on all aspects and I look forward to continuing our association in 2020.