Traffix at Traffex 2019

Posted on Friday, April 26th 2019
Traffex is the UK's largest and most established exhibition for those involved in the highways and traffic engineering sector. With over 350 exhibitors all under one roof and attendees in excess of 10,000, the event is a must for all those looking to deliver continuous, cost-effective and efficient improvements to their roads and highways.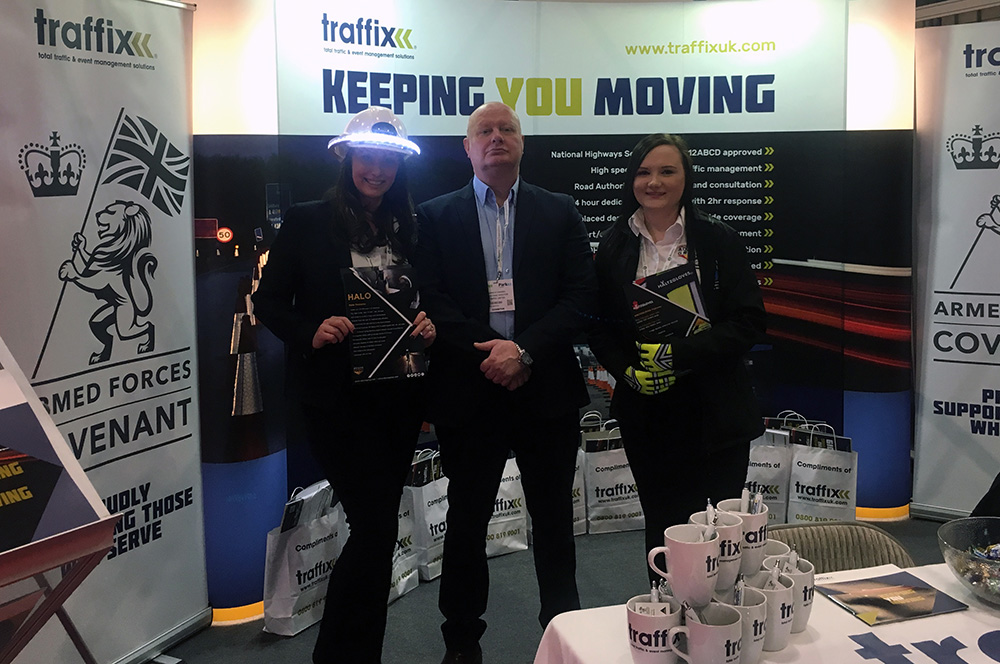 We were exhibiting again at this year's show, which was held over the 2nd to the 4th of April at the NEC in Birmingham. It is a great opportunity for us to meet with customers and partners from across the highways network and to discuss industry-wide topics whilst promoting our credentials as a leading provider of temporary traffic and event management services.
Members of our senior management team were on hand to offer professional advice to those seeking potential project partners whilst also advising people who are looking for a way of entering the industry. Since we started back in 2005 we've built a reputation for a friendly and enthusiastic approach to everything that we do, which serves us well at exhibitions. Whoever walks on our stand is treated with the utmost courtesy regardless of their status.
Visitors to our stand were particularly keen to learn more about our partnership with the armed forces. Traffix has honoured its commitment to the armed forces through the signing of the Armed Forces Covenant. This demonstrates our recognition of the value that armed forces personnel, and their families, can bring to the workforce and the wider community.
Derek Vinning is Operations Director at Traffix and he had this to say about the event. "It's always good to spend time with customers and partners outside of the usual office and site environments. We had a great show, it was good to see old customers and lots of new customers on the stand and we're really looking forward to planning the new and exciting projects that were discussed."