Traffix awarded ISO14001 environmental status

Posted on Tuesday, February 2nd, 2016
At Traffix we're committed to protecting the environment for future generations by reducing the impact of our working practises.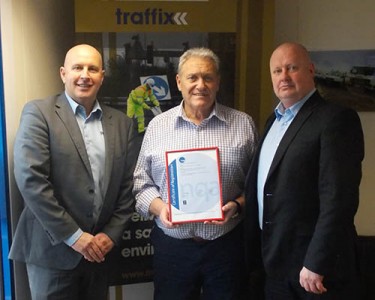 To further fulfil our commitment we commissioned the services of environmental management consultant Chris Handel to work towards our successful accreditation of ISO 14001.
After evaluating the challenges to the business in the delivery of the system along with the impact, Chris advised that we adopt a Plan Do Check Act approach as we had done when implementing other systems.
There followed an intense twelve months of preparation, planning, evaluating and training. All Traffix personnel were engaged in both individual and team activities tasked with finding solutions to enable us to reach our environmental goal.
Following an audit in December 2015 by NQA, a UKAS approved company, Traffix were awarded ISO 14001 environmental status.
A delighted Gary Horsburgh, Traffix Managing Director commented: "To say that we are pleased to receive this award is an understatement. My thanks go to Chris Handel and all of our staff for their determination in making this happen.
"But the work doesn't stop here, we will not only work hard to maintain this level, we will strive to improve our environmental performance even further."